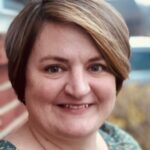 Katie Reimer is running to represent Region 7 Ward 7 on the Springfield School Board, a seat long held by Frank Agovino before his resignation earlier this year.
She was born and raised in Delco. After graduating Cardinal O'Hara High School, she became the first person in her family to graduate college, earning dual BS degrees in Computer Science and Applied Mathematics from Johns Hopkins University, and later a Masters Degree in Secondary Mathematics Education from the Teachers College at Columbia University. She spent several years working in New York developing software to support international financial markets and eventually followed her heart to become a middle school teacher at the School at Columbia University after earning her degree in education.
Katie's heart led her back to Delco in 2017 with her husband and two children. She and her husband chose to move to Springfield because of the reputation of the school district, and they currently reside in Beatty Woods. Her daughters now attend ET Richardson Middle School and Sabold Elementary School.
Katie has been actively involved in the Home and School Association since joining the Springfield community, including serving as President during the 2021-22 school years. As President, she worked with a team of parents to generate funding for the SLC through the Cougar Challenge to support the numerous programs provided to students at the SLC.
Katie brings a wealth of experience as a teacher, businesswoman, team leader and volunteer both in the corporate and education arenas. She is a passionate advocate for children and educators and a supporter of Springfield School District. She is looking forward to the opportunity to continue serving the community as the next School Board Director for Region 7 Ward 7.