The Springfield and Delaware County Democratic Committees have endorsed the following for candidates for 2021: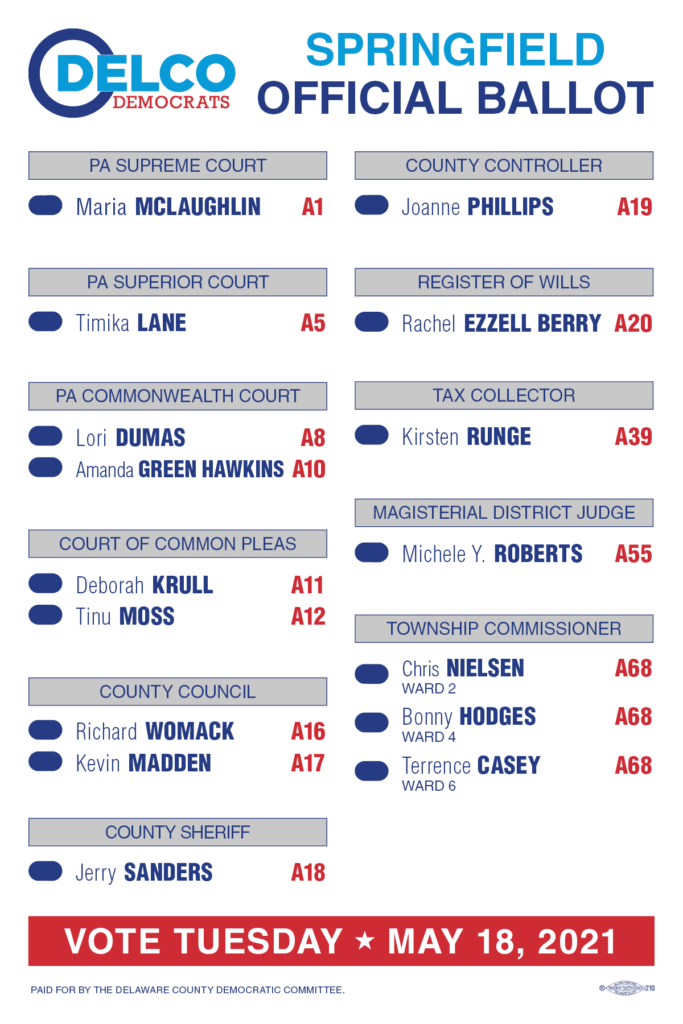 Springfield Township
Tax Collector
Kristen Runge is our candidate for Tax Collector. You can find more information about Kristen at Springfield Forward and on Facebook.
Magisterial District Judge 32-1-32
We are proud to endorse Chairperson Michele Roberts of Morton Borough Council for Magisterial District Judge 32-1-32, serving Wards 3, 4, and 7, Ward 2 Precinct 2, and all of Morton Borough.
Commissioners
We have a full slate of Democratic candidates running for Commissioner in 2021: Chris Nielsen in Ward 2, Bonny Hodges in Ward 4, and Terrence Casey in Ward 6. See their website, Springfield Forward, and like them on Facebook.
County Candidates
Our endorsed candidates for County offices are:
County Council
Sheriff
Controller
Register of Wills
Court of Common Pleas
Pennsylvania Courts
Our endorsed candidates for the Pennsylvania Courts are:
Supreme Court
Superior Court
Commonwealth Court